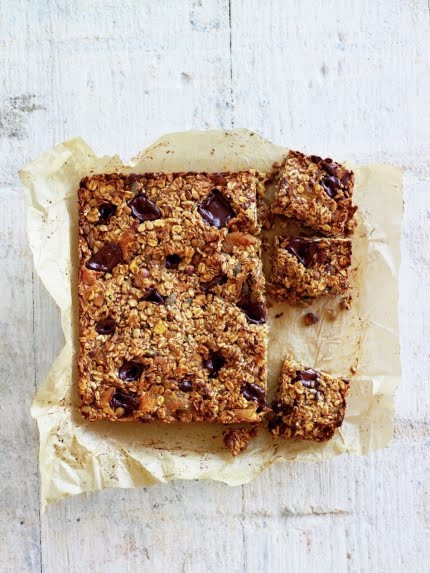 Trying to avoid refined sugars? These delicious pistachio, apricot and dark chocolate energy bars with mixed seeds, dates and oats will hit the spot for a quick energy.
Ingredients:
Olive oil, for greasing
75 g shelled pistachios
100 g mixed seeds
250 g rolled oats
100 g dried apricots
50 g quality dark chocolate (70%)
100 ml maple syrup
4 tablespoons smooth almond butter
Method:
1. Preheat the oven to 180ºC/gas 4. Grease and line a 20 x 20cm square baking tin.
2. Chop the pistachios, then scatter over a baking sheet with the mixed seeds and oats, and roast for 20 minutes, or until golden and toasted, turning occasionally.
3. Meanwhile, destone and roughly tear the dates, roughly chop the apricots and chocolate.
4. Place the maple syrup, almond butter, dates and 150ml of water in a small saucepan over a low heat. Gently heat for 10 minutes, mashing the dates with the back of your spoon, until you have a sticky sauce.
5. Tip the oats, seeds and pistachios into a large bowl along with the apricots and pour over the maple syrup mixture. Coat everything in the sticky sauce before gently folding through the dark chocolate.
6. Pour the mixture into the baking tin, using a back of a spoon to press into an even layer.
7. Bake for 15 to 20 minutes, or until golden, then cut into portions.
In addition to our article about Pistachio apricot & dark chocolate energy bars, here are some health benefits of the dark chocolate:
rich in minerals such as iron, magnesium and zinc
contains high levels of antioxidants
improves blood flow
lowers blood pressure (the flavanols that can be found in the dark chocolate stimulate nitric oxide production in the body. Nitric oxide causes blood vessels to dilate, or widen, which improves blood flow and lowers the blood pressure)
lowers "bad cholesterol"
reduces inflammation
improving the brain's ability to make new connections between neurons